Earlier in the week I wrote on the blog for the first time in 19 months and now I'm back with this spring tutorial with Emma from A Quiet Style. If you have had time to read the previous blog I'm sure you will understand how pleased I was to meet up with Emma, catch up on life and of course get to play with some lovely spring flowers.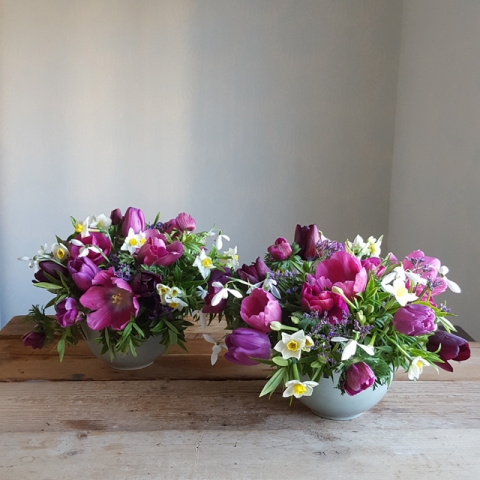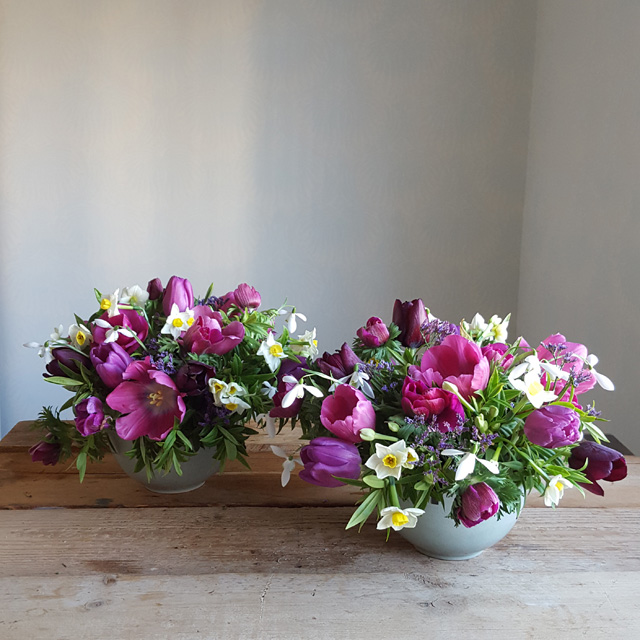 I love the spring, with all that new life bursting out but I also love that you can buy spring flowers for just a couple of pounds.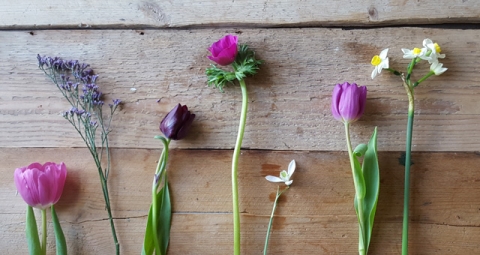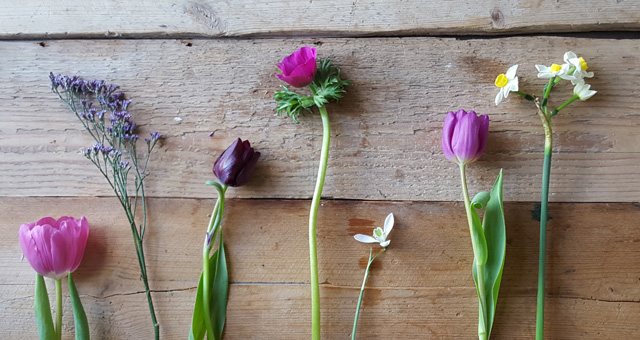 In my mind, at least, that means you have no excuse but to bring an abundance of flowers into your home!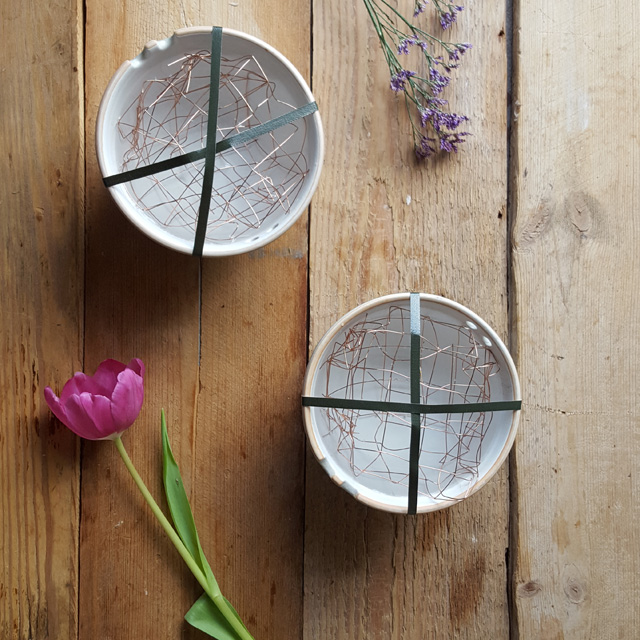 With this tutorial I wanted to show that you could turn any bowl or container however wide into something suitable for flowers. This can be done simply with some chicken wire that you can use again and again.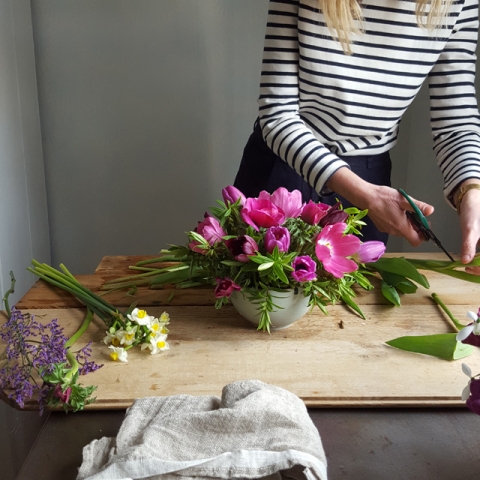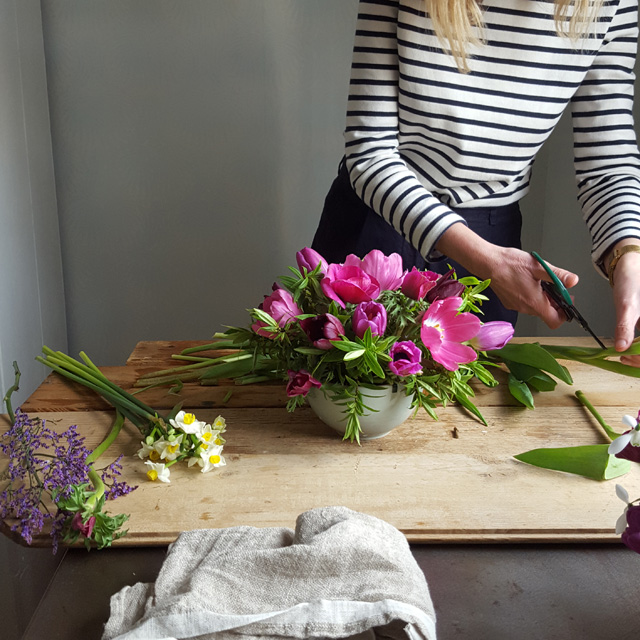 Time to ask you for some help!
I'm planning to do some workshops in and around Sussex and Kent this year and would love your help with the following. I would love to learn;  What you would like to learn, what time of the day would suit you and how much you would be happy to pay.
It's a really short survey but I would learn such a lot. If you would like to be kept informed of upcoming workshop dates please complete the survey or drop me an email.
I'm happy to help and complete the survey!
Thank you Caroline x
P.S I haven't quite forgiven Emma for putting up photos of me on her blog!
Oh my, how can it be that I haven't written a blog in 19 months! To give you my excuses, it has been an extraordinary year with some enormous highs and extraordinary lows. To run you through the last 19 months I have;

Made my wedding dress (a completely mad idea but so pleased I did it and more importantly completed it in time)

Created a Chelsea in Bloom window for Jigsaw with Bloom and Wild (Amazing!).

Got married (best day ever without a doubt! Full of love and joy and everyone we loved all in one place).

Worked on lots of beautiful weddings with lovely brides, (I will be showing the highlights of these in future blogs, I promise).

Moved house (moved to the lovely little town of Wadhurst on the Sussex Kent boarder. Lots of jobs to do but it feels like home and our cat loves having a garden).

Moved studio and store (so great to have a home workshop and all things in one place, but sad not to be seeing my friends at Upper Lodge)

And the really big one, I nearly lost my husband on Christmas Eve.
Yes that's right my lovely Boy who I married 6 mouths and 1 week before was involved in a head-on collision at 8am on Christmas Eve. We learned this week just how close he was to not even making it to the hospital. But 4 days in intensive care followed by four weeks in hospital the amazing staff in the NHS got him not just back on his feet but on the way to being fighting fit again. He still has a way to go I have no doubt that he will get there. The past few months I have just been trying to keep my head above the water, keep a smile on my face and keep my little business going. But as I sit here with the spring sun shining in I feel excited about what the future holds for me, the adventures that the boy and I will have together and the home we can build.
I will be back soon with a great spring tutorial with Emma from A Quiet Style
Caroline xx
I thought I must quickly share with you some images from this month tutorial with A Quiet Style.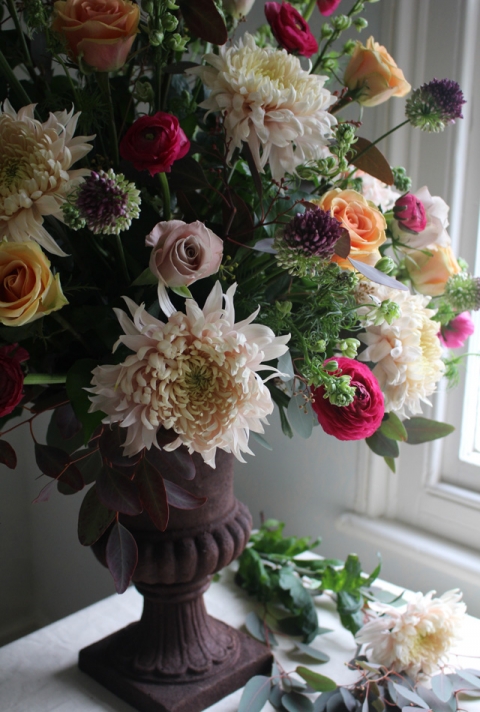 I'm a big fan of urn arrangements from traditional (like this one), to loose asymmetrical ones which are inspired by oil paintings from the Dutch masters, or they can be more wild and free like a hedgerow with dog wood roses rambling through it.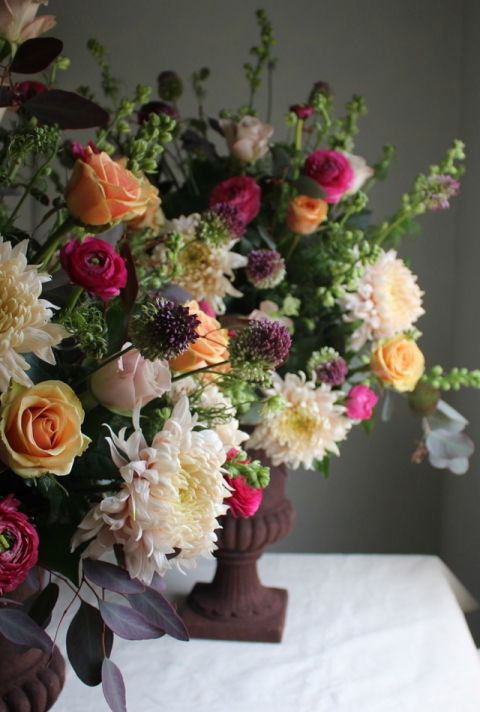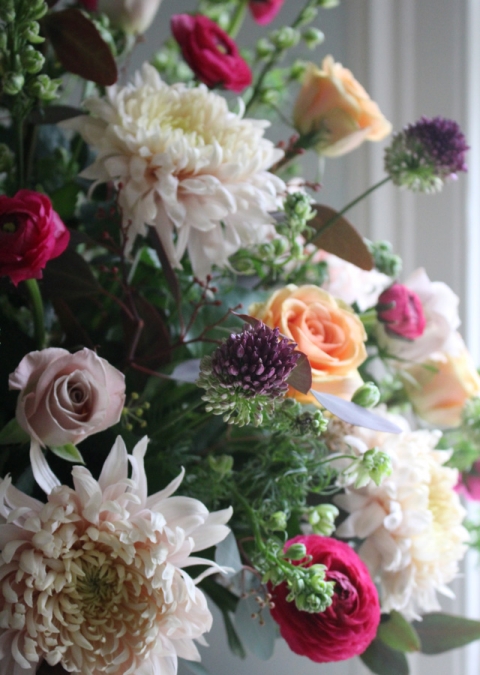 Whichever you have they always add a bit of glamour and theatre to a wedding or event.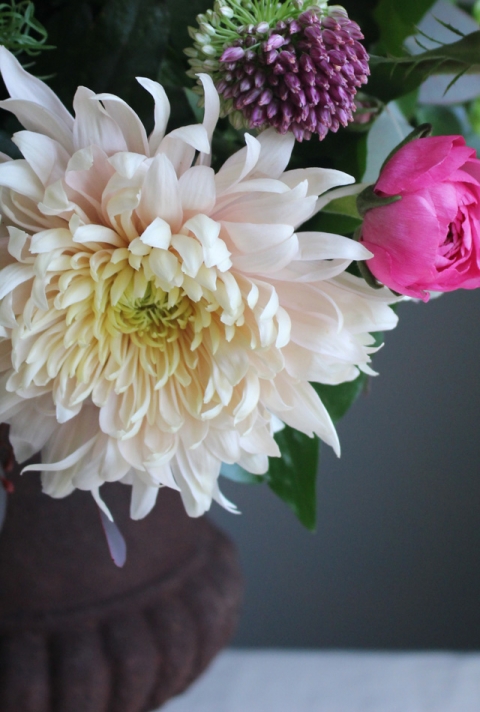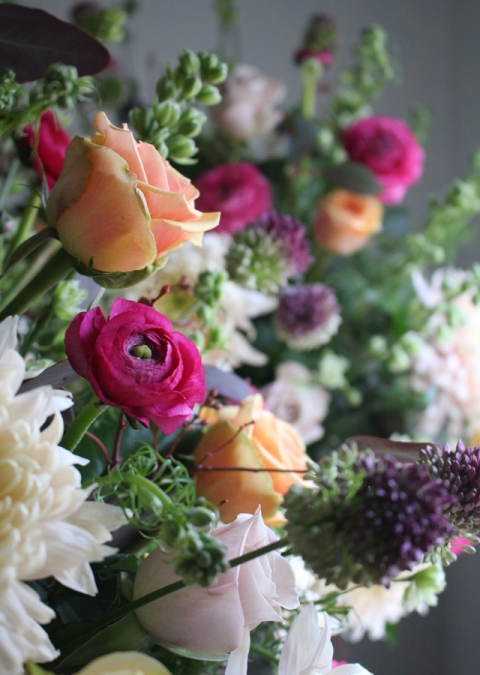 I must also add a little side note about the colour choice. I was so excited when I saw these amazingly soft, creamy, peachy and blush tones chrysanthemums (Avignon, is there variety name) and mixed with the Jew tones from the Ranunculus, Alliums and Roses it makes my heart sing with joy.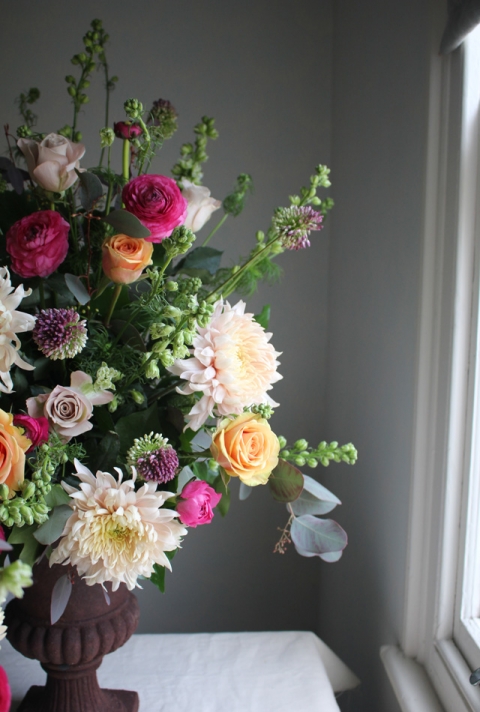 I really hope you go and look at Emma's blog to see how they were made. Caroline xx