Earlier this year by the power of Twitter I was lucky enough to see a tweet by Upper Lodge offering four raised beds under the Landshare scheme in their garden. I tweeted back 'ooh, yes please! The Boy and I trundled on up to Upper Lodge which is nestled in the East Sussex countryside near Lewes to have a look around. It was love at first sight and I couldn't believe I could be so lucky! I had long desired some outside space to grow some cutting flowers, herbs, fresh vegetables and to get mud underneath my nails and sun on my face.
Upper Lodge is more than just a house it has a gorgeous garden an extensive vegetable plot, cutting garden and with a very stylish holiday cottage, three artists' studios and now one very happy florists' cutting garden.
Although I had grown up with parents that were keen gardeners and my Friday nights as a child was spent watching Gardeners World I have never been responsible for my own patch of ground. Books were borrowed, YouTube videos were watched and of course a few chats with my dad were had. I suddenly had a plan I knew what I wanted to grow, so seeds were brought spades were borrowed and I started my gardening adventure.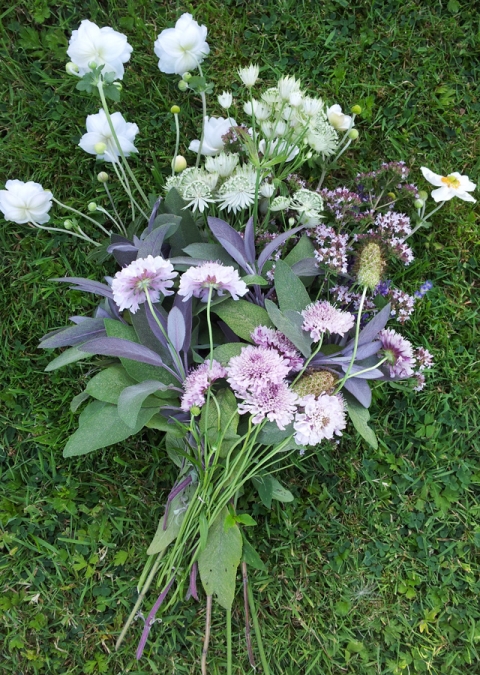 Pickings from Upper Lodge's cutting garden
What we grew spring/summer 2014

Flowers
Cornflowers, Lavender, Cosmos (pink and white varieties) Larkspur, Feverfew, Nasturtium, Ammi Majus, Marigold and of course some sweet smelling Sweet Peas
Herbs and foliage
Dill, Bupleurum, Lemon balm, Quaking Grass, Rosemary and lots and lots of Mint
Vegetables and fruit
Salad leaves and Rocket, Swiss Charge, Onions, Garlic, Leeks, Peas, Runner beans, Tomatoes and Strawberries.
Three homegrown thank you bouquets, a bucket of sweet peas, an arrangement of Cosmos, Dill and Hydrangeas
Although we try and source lots of flowers locally there's nothing quite like home grown, seasonal and fragrant blooms and herbs in an arrangements and a few of my lucky brides had flowers and herbs from the plot or from Upper Lodge's cutting garden add to their bouquets and table arrangements.

One of this summer's bridal bouquets which included homegrown Lavender, cornflowers, feverfew and flowering mint
This summer has come and gone now and my bounty of flowering goodies has gone it's time to dig up, cut back and make plans for next year.