This year already seems to be flying by and I can't believe it's going to be April on Wednesday and Easter at the weekend. So it was so lovely on Friday to spend some time with Emma from A Quiet Style and talk her through how I would make (some would say twee I would simply say pretty) a little arrangement in a tea cup. Easter inspired so it had to be filled with spring flowers and to get over the dreich winter months it needed to be full of spring colour too.
One of the main flowers that I used in the arrangement was a Ranunclus and you'll know if you follow my Instagram feed that it's one of my favourites. I often use them in my winter and spring weddings bouquets.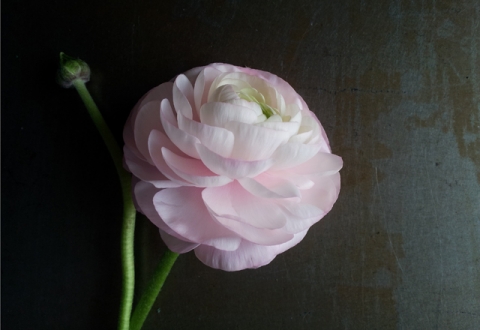 It can be so light and delicate when you have a pale pink or white variety. Like the finest piece of porcelain they can almost seem transparent and with their petals like a ballerina's tutu it's hard not to be in love with them, I certainly can't resist!

Ranunclus are a part of the buttercup family and come in a wide variety of colours from the whites and pale pinks to vibrant yellows, oranges, cerise and cherry reds, then just to make you even happier it goes to the deepest of burgundy.

The normal variety is the size of a small rose but in recent years there has been a new variety on the scene called a Cloni Ranunclus and once fully open can be as big as a garden rose or peonie. I had some by my bed for the last two weeks and they are still going.

Are you head over heels in love to? If so and you would like to see more pop over to my Pinterest board where I've gathered a few of my favourite varieties. Remember to check out Emma's blog to see the tutorial.