What a beautiful but crazy summer I'm having. It's been full to the brim with sweet smelling Sweet Peas, soft petal Peonies and lots of 'oh so beautiful' Roses and still there is more to come. But at this time of year I'm not just thinking about the weddings that are coming up but also about next year's weddings too.
Photo – Wild Rubus
I find it really inspirational to meet new brides and hear all their plans. It's then my job to interpret their ideas into gorgeous floral schemes.
Brides often ask me about how to choose their colour scheme or how to tie a theme together with flowers. I start by asking them to describe their wedding and then I look through their Pinterest board. Nine times out of ten the look and feel of their wedding is there and all I need to do is pull it together.
If you're planning your wedding at the moment and feel a little bit lost for what colours to go with try these ideas to sort through your plans.
Divide your Pinterest board into different schemes or colours. This might give you some clarity so you can see which one you like the most.
Think about your venue, is there something there that you can tie in e.g. Lots of lavender growing in the grounds.
Are you doing something different? e.g. changing your shoes when the dancing starts to your bright pink favourites, well maybe tie in the colour!
Make a colour board like these ones below.
So I thought I would share with you today some schemes I worked on for a soft, wild, romantic wedding.
Soft and Wild in Brush – soft pinks and creams
Photo – Windlost

Soft and Wild in Berries – soft to deep pinks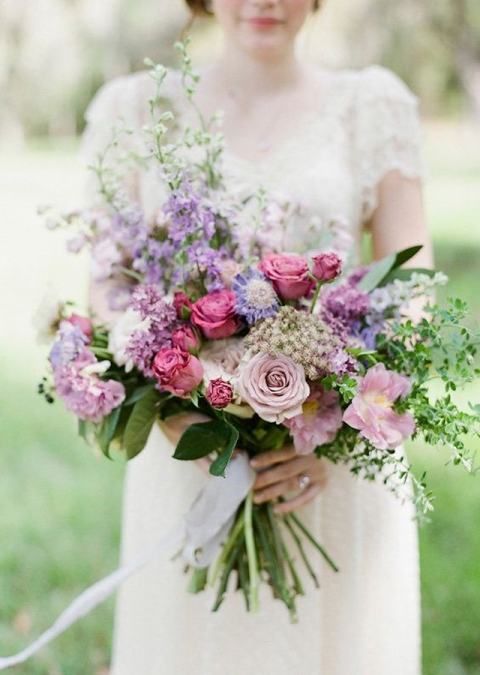 Photo – Magnolia Rouge
Soft and Wild in Purples – blues, pinks and cream
Photo – Love My Dress
I love them all but which would you pick?
Caroline x