Well hello there, long time no see! Or should I say no blog. I can't believe it's going to be 1st November tomorrow and I'm already a day late getting this blog up, where oh where does time ago?
I have now known Emma from A Quiet Style for a whole year now. What a lovely lot fun we've had and we have a lot more tutorials to come. On Emma's blog you'll find a lovely little tutorial on how to make an autumnal Heather flower crown along with some gorgeously cute photos of her two joyful children wearing the crowns.
This is the easiest sort of Crown to make as there is no wiring of the flowers into place. I'm sure next year we will do a Frida Kahlo inspired hair crown, all crazy and bright with enormous blooms but for now I love the simplicity and wildness of this tamer version. I feel that to wear this crown you should be walking the misty Moors with a Welsh blanket wrapped around whilst wearing a white Victorian nightgown.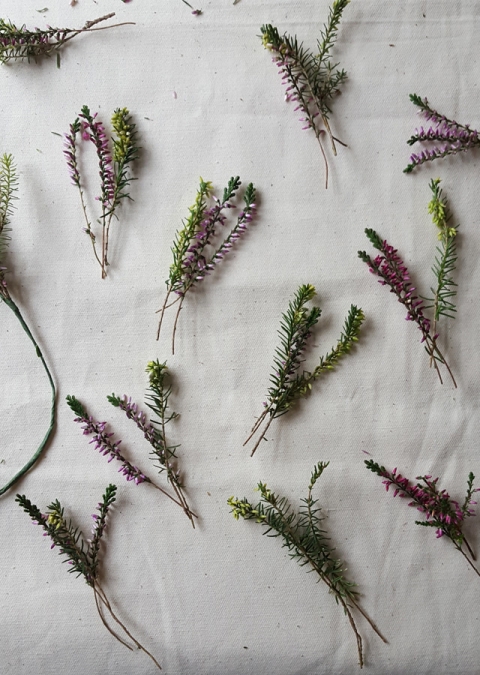 Have a happy Halloween or should I say have a spine tingling one!
What a beautiful but crazy summer I'm having. It's been full to the brim with sweet smelling Sweet Peas, soft petal Peonies and lots of 'oh so beautiful' Roses and still there is more to come. But at this time of year I'm not just thinking about the weddings that are coming up but also about next year's weddings too.
Photo – Wild Rubus
I find it really inspirational to meet new brides and hear all their plans. It's then my job to interpret their ideas into gorgeous floral schemes.
Brides often ask me about how to choose their colour scheme or how to tie a theme together with flowers. I start by asking them to describe their wedding and then I look through their Pinterest board. Nine times out of ten the look and feel of their wedding is there and all I need to do is pull it together.
If you're planning your wedding at the moment and feel a little bit lost for what colours to go with try these ideas to sort through your plans.
Divide your Pinterest board into different schemes or colours. This might give you some clarity so you can see which one you like the most.
Think about your venue, is there something there that you can tie in e.g. Lots of lavender growing in the grounds.
Are you doing something different? e.g. changing your shoes when the dancing starts to your bright pink favourites, well maybe tie in the colour!
Make a colour board like these ones below.
So I thought I would share with you today some schemes I worked on for a soft, wild, romantic wedding.
Soft and Wild in Brush – soft pinks and creams
Photo – Windlost

Soft and Wild in Berries – soft to deep pinks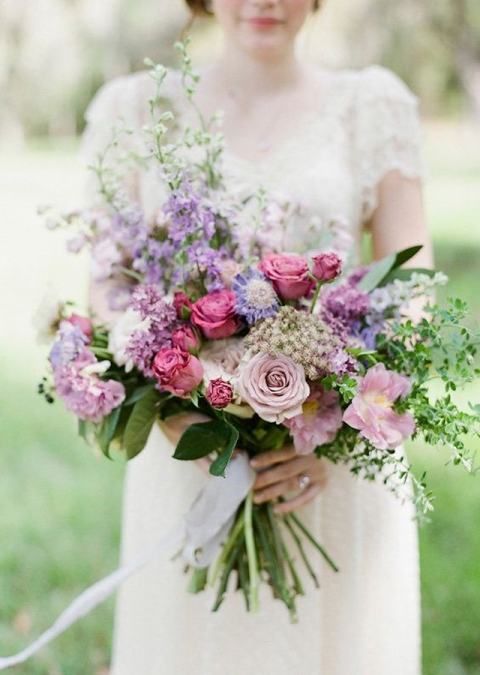 Photo – Magnolia Rouge
Soft and Wild in Purples – blues, pinks and cream
Photo – Love My Dress
I love them all but which would you pick?
Caroline x
With the wedding season in full swing (I'm swimming in flowers at the moment, my heaven) so with this in mind I showed Emma from A Quiet Style how to make a traditional buttonhole.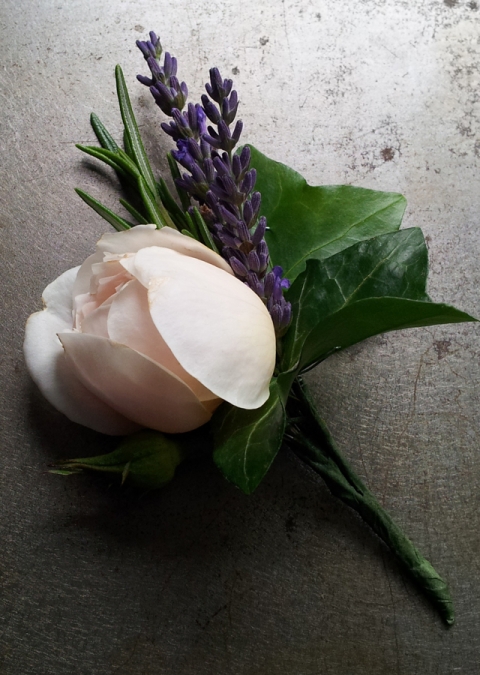 There is an endless choice of what combination of flowers to use but on the whole a traditional buttonhole is made with a rose and softened with leaves. Then you can and I love to add other little flowers, berries, or even feathers. If you want a little inspiration of what flowers, or combinations to use, then check out my pinterest board where I have gathered together a few of my favourites.
Generally buttonholes or Boutonnière are warned by the Groom, Best Man, Ushers and close male members of the bride and groom's family (fathers and brothers). With female members of the families (mothers and grannies) having a corsage. I often get asked what the difference between a buttonhole and corsage is. Corsages are lighter and more delicate than a traditional buttonhole, making it much more feminine and easier to attach to light fabric.
Remember to check out Emma's blog to find out how to make this buttonhole and next month Emma and I'll be making Posey buttonholes, a much more relaxed in style buttonhole.